World Famous Books in Outline [Simply the Best] – Odhams – First Edition 1948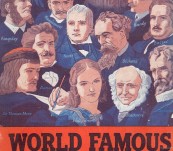 Short Description
Some readers are worried they will not get through all the books they have to read … this understandably can be quite stressful.
Regarding the great novels, a course in speed reading may help, but this produces its own form of anxiety … am I really giving the book justice etc? Publisher Odhams, London came up with this precis of the best novels in 1948 … there are other books of this type but none as good as Odhams.
Published in 1948, octavo, 512 pages, with illustrations of some quality and uniform style which helps you along. Very good condition albeit with a solid chip in the dust jacket at spine ends.
All up 35 books covered, so you can do the maths. Classics include … Pride and Prejudice; Lorna Doone; Jane Eyre; Don Quixote; the Brothers Karamazov; Madame Bovary; Tess; Notre Dame; Vanity Fair; War and Peace; Faust etc … And, some non-fiction … On the Origin of Species for example
Get ahead of the game … A good way in and a tease for the full work

Updating...