Triumph in the Tropics (Queensland) – Cilento and Lack – 1959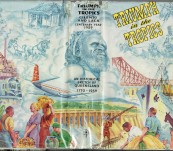 Short Description
This substantial book was produced for the Centenary Celebrations of Queensland published 1959 effectively by the Historical Committee of the State Government. It is free from government style and influence and jam packed with facts in a naturally chronological order.
Thick octavo, 446 pages plus index. Illustrated throughout, including charts, coloured frontispiece of the Cooktown Orchid (quite beautiful but we find a slightly strange choice). Facsimile signatures on endpapers and a pretty good example of the decorative period dust jacket. Very clean.
Starts with very early explorers (the reference to first nation people comes later) .. Cook, Flinders, Oxley, Convict establishments, foray into the interior, self Government. Then the development of the "Modern Queensland" … pastoral, maritime and mining (more about Mount Morgan).
It is the depth of information that impresses us most about this book, whilst the content concerning aboriginal people would not meet today's standards, it is hard to find a book anywhere that addresses progress in Queensland better than this account. Not surprising given the authors [note their humble reference to mere editors] Cilento and Lack.
A Triumph it is ... Queensland!

Updating...