Trimaran to Tahiti – D.E. Barry-Evans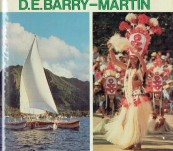 Short Description
Doug Barry-Evans preferred to be called DE. A WWII naval aircraft pilot born in the UK but spent most of his life in New Zealand.
A First edition 1978, published by Richards o Auckland, NZ. Small quarto, 216 pages plus appendices. Really well illustrated and with really good technical information regarding the boat in the back section. A very good copy
From New Zealand to Tahiti an 1,800 mile there and back voyage with lots of excitement and adventure along the way.
A special sailing adventure with good detail on the islands visited

Updating...