The Year of the Quiet Sun – Adrian Hayter – Quality Book Issue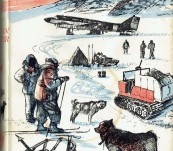 Short Description
Adrian Hayter was chosen as the leader of the New Zealand Antarctic expedition of 1964-65.
This is his record of experiences at and around the Scott Base in the Ross Sea Dependency.
Published by the Quality Book Club following the Hodder and Stoughton first the same year 1968. We also have the Hodder version ... see separate write up.
Octavo,191 pages, illustrated from original photographs, diagrams etc. A very good copy apart from light soiling front jacket
A well written and readable account from the previously published author. As well as the trips, experience, difficulties etc we have a honest account of the personnel issues that arise out of the extended close contact and isolation.
Reference Renard 680
Good cold weather account on the industrious NZ Antarctic team

Updating...