The Voyage of the "Scotia" – Being the Record of a Voyage of Exploration in the Antarctic Seas By R.N. Rudmose Brown, J.H.H. Pirie and R.C. Mossman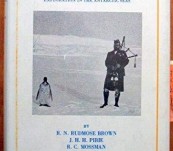 Short Description
A facsimile of the rare first published by Blackwood and Sons, Edinburgh in 1906. This edition by ANU, Canberra in 1978.
The original small quarto this octavo, 375 pages with numerous illustrations and a chart of the track of the Scotia; a map of Laurie Island South Orkneys and a large folding chart at the rear … Bathymetrical Survey of the South Atlantic Ocean and the Weddell Sea. A fine copy. The piper on the front is naturalist Burn Murdoch … the first person to play the bagpipes on the Antarctic … and also in the Arctic … quiet an achievement.
With an additional forward by Sir George Deacon which adds greatly to our understanding of the expedition leader William Spiers Bruce and his colleagues who were joint authors of this account
William Spiers Bruce (1867-1921) was born in Edinburgh and was Scotland's greatest polar scientist and oceanographer. His greatest accomplishment is recorded in this account, leading the Scottish National Antarctic Expedition (1902-1904) to the South Orkney Islands and the Weddell Sea, where they conducted the first oceanographic explorations and discovered the northern part of the Caird Coast. They established the first permanent weather station in the Antarctic. Bruce would not write the popular account of the expedition so it fell to his three lieutenants to write this much admired work.
Bruce had previously been on the Dundee Whaling Expedition (1892) having given up medical studies to participate. In between he participated in Arctic Voyages to Novaya Zemlya, Spitsbergen and Franz Josef Land. He wanted to joined Scott's Discovery Expedition but it is said that he fell out with Markham and therefore organised his own Scottish expedition. He was a good friend of Mawson and provided gear towards Mawson's later expedition.
The Scottish expedition, an early one with significant achievements, often overlooked.

Updating...