The Story of Central Hobart – Street by Street – Donald Howatson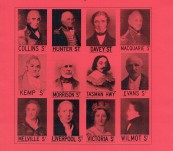 Short Description
Produced by the author in 2015. A must have for anyone interested in the history of the City area of Hobart. Perhaps the most interesting of a series of booklets published over time by Howatson. Not rare and quite often reprinted or copied may be the correct expression.
Comb bound, 62 pages, nicely illustrated and a first "printing" for sure … some we see the images (which are many and important) deteriorate as further copies are made by the xerox method.
Red protected covers with various ornament front and back.
Our favourite is the history behind the Cat and Fiddle Arcade … super stuff. A very good as new copy.
Hobart its City History – beats them all.

Updating...