The Shot Tower [Hobart] and its Builder Joseph Moir – Richard Lord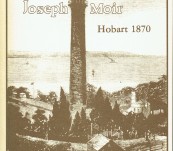 Short Description
A special local history item by Richard Lord who also authored the respected book on St David's graveyard and the Isle of the Dead at Port Arthur.
More than a local history is the shot tower is the only stone and brick built circular shot tower in the Southern hemisphere.
Anyone coming to Hobart may not have a visit here on the agenda … after reading this thorough account I doubt you will neglect the tower.
First Printing 1980, self published, printed by Specialty Press, Hobart. Perfect bound, ninety-one pages, nicely illustrated mainly from historical photographs.
The builder of the shot tower Joseph Moir was an incredibly enterprising individual. Already successful in business. He went to England and came back with a shipload of hardware and set up the Economy House at 49 Murray Street. It did very well.
In the 1860's his mind turned to making shot … a quite complex process fundamental to which is the action of gravity hence the tower. His careful planning led him to select the perfect site some seven miles form the centre of Hobart. The author goes through the considerations regarding the location, the structure, the outhouses for arsenic, powder etc and the incredible feat in erecting the tower in eight months with the help of only two stonemasons. The process for making shot was designed by William watts of Bristol in the 1700's. A bit of experimentation was required at Hobart, but Moir eventually cracked the technique … which he guarded for year to come.
The Shot Tower – Tasmania's finest industrial structure.

Updating...