The Russians in Hobart 1823 – Glynn Barratt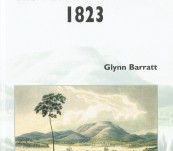 Short Description
Published by the University of Tasmania in 22004, Glynn Barratt being an exert and author on Russian activity in and around Australia and the Pacific in the 19th Century.
Soft cover, perfect bound, 161 pages, illustrated. A fine copy.
Unusual, an most interesting, having a book focusing on Russian activity in isolation.
May 1823 two Russian ships the Kreise and Ladonga came up the Derwent and stayed for three weeks. Even then there was a curiosity about Russia and the Russians. They were well received, maybe more because of the money they could put into the economy than anything else. The officers mixed with the well heeled and dances and parties ensued. Both ships carried natural history scientists. The content here is based on reports of the voyage and later publications of a midshipman Dmitrii Zavalishin later on.
Whilst the book focuses on this expedition [the date is in the title], there is a fair amount of the previous voyage of Bellingshausen in the Vostok [the one where he had returned from the Antarctic]. After sighting Van Diemen's Land he sailed on the Sydney. His second vessel Mirnyi was much slower and took more careful note of Tasmania …
Russian interest in Tasmania in the early 19th Century.

Updating...