The Passenger Pigeon – by Joseph Quinn.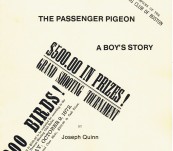 Short Description
No date comb bound copied item published circa 1990, see below. This was its original form – self published by the author.
Subtitled "A Boys Story" but not a story for Boys, in fact a compilation of the writings of the author, many of them, published in Bird World ... and all about the demise of the Passenger Pigeon.
We learn that the last pigeon a female was given the name of Martha, after George Washington's wife … the second last Passenger Pigeon, her brother, named George … naturally. We like this unusual work not just for its obvious rarity but the love of the writer for his subject. The Boys story is a reference to him finding his childhood scribbles about the subject matter.
96 pages in all, some images from the magazine that have not copied too well. Cream card covers.
A total of 20 separate articles, all of some length, published variously between 1982 and 1987.
Inserted on posh faux vellum paper is a poem written by the author in honour of the sadly retired bird; rather well penned and definitely moving.
Joseph Quinn – his life's work on the Passenger Pigeon all in one place.

Updating...