The Nature of Crime – Joseph Conrad and Ford Madox Hueffer (Ford) – First Edition 1924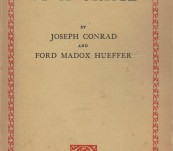 Short Description
An unusual novel the third and final collaboration between Joseph Conrad and Ford Madox Ford. Originally written in 1909 but only published until June 1924 … Conrad was to die in August that year.
Published by Duckworth, London. Octavo, 119 pages, a short, pointed story. Preface by Conrad, one of the last things he penned. And, another Preface by Ford Madox Ford. Both particularly interesting writing about the effects of their collaboration [Conrad didn't like Madox Ford's choice of verbs]. A particularly good copy in a rather fine dust jacket.
Described by Conrad as a "Fragment" … it is a short read … we agree with Conrad's conclusion that it is well honed and written to be read out loud for dramatic effect. They did this to each other in its crafting.
The unnamed protagonist tells his story through a series of letters to a love interest. The protagonist, a lawyer, has committed a crime, the embezzlement of trust funds over and extended period. He becomes more inwardly affected as time goes by … the letters become more frequent, and his deteriorating moral stance leads him downwards. Likely echoes difficult periods in Conrad's early life and makes for a powerful intense drama.
An unusual novel from the Conrad / Madox Ford co-operative … when alone read out loud!

Updating...