The Martian – George du Maurier – First edition 1898.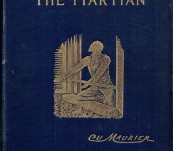 Short Description
First edition published by Harper & Brothers in 1898.
A substantial book, large squarish octavo, 471 pages, dark black end papers which show signs of paper label removal, so possibly ex library probably not public as no other library marks. Striking deep blue cloth covered boards with gilt titles, design, and faux signature to front, gilt title to spine, extraordinarily clean. Someone has assembled poetry to the early preliminaries, which we find quite charming.
Considered the be quasi autobiographical with a strange surreal Martian twist. The life of Barty Josselin as told by a friend Robert Maurice from early days at the Institution Brossard in Paris. Josselin a good looker and thoroughly talented and extrovert. Later back in England Barty has a spell in the army.
Later his eyesight starts to fail which makes him think of taking his own life. In a dream a spirit guardian in the form of Martia from Mars comes to him. From then Martia inspires him and provides advice which secures his career as an author. Martia has other influences and wishes him to marry Julia ... and all gets a little complicated from there ..
George du Maurier Channelling a Martian Spirit Guide

Updating...