The Life of Captain James Cook – J.C. Beaglehole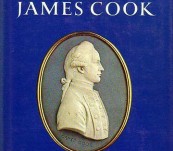 Short Description
Published by Adam & Charles Black, London 1974 a first of this issue having been previously published by the Hakluyt Society.
Large "royal" octavo, 760 pages with 4 sketch maps, 1 foldout map, 4 coloured plates and 67 black and white illustrations. Slight sunning of dust jacket spine and hint of foxing as often the case. A very good copy. A heavy book that will require an Overseas postage supplement.
Many would agree the best authority on James Cook. John Beaglehole wrote the definitive analysis of James Cook's three monumental voyages published by the Hakluyt Society. Likewise, this book, on the man himself, is a superb digestible (albeit 700+ pages) account and a must for Cook admirers with a thirst for knowledge.
Best "Cook Book" by far ...

Updating...