The Hand its Mechanism and Vital Endowments as Evincing Design – Sir Charles Bell – 1833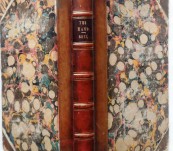 Short Description
Published by William Pickering, London in 1833. A second printing same year as the first, revised and expanded.
Octavo, 314 pages with numerous engravings throughout the text. Bound in contemporary half calf, spine gilt ruled with raised bands and separate leather title label. A very nice copy of an important fundamental work.
Constituted the fourth volume of the remarkable Bridgewater Treatises (See our other listing).
A landmark book by Scottish Surgeon Sir Charles Bell (1774-1842). He was the first Professor of Anatomy and Surgery at the London College of Surgeons and established the Medical School at the University of London where he headed up the Surgery Department.
Medical Classic by Sir Charles Bell

Updating...