The Great South Land – Searching for the Antipodes from Classical Scholars to Quiros & Dampier.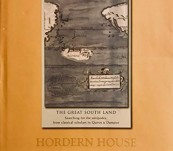 Short Description
Published by Hordern House in 2011 another scholarly catalogue of key works presented in a depth and standard unlikely to be surpassed.
Hardback quarto, in dust jacket, unpaginated but circa 180 pages with 127 rare items. A fine copy.
After a useful introduction we start with "Ideas of a southern continent" … Classical Geographers with works by Strabo, Mela, Macrobious, Ptolemaeus … the Renaissance and later. Leading to Marco-Polo, Mandeville and the "travellers and story tellers". Dutch exploration and the VOC … Duyfken, Tasman, Pelsaert. Before the Spanish and Portuguese … Varthema, Quiros, Mendana. The "English Adventurers make Landfall" .. Drake, Woodes Rogers, William Dampier. Hakluyt wraps it all up. All up 104 voyagers, travellers or distinguished authors.
The period up to Dampier explained by reference to key works

Updating...