The Fountain Overflows – Rebecca West – 1957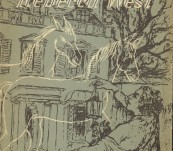 Short Description
An early edition of this important work by Rebecca West published by MacMillan, London and nominated a "Book society choice" – a March 1957 edition after the January 1957 First.
Octavo, 392 pages, very good condition, a trifle marked on the page edges.
Rebecca West the nom de plume of Dame Cicily Isabel Fairfield was named by the Times as the best female writer of the 20thC.
She maybe is even more famous for her lengthy romance with HG Wells despite his 27 years on her of his already marriage. They had a child, Anthony west, who also became a writer. He wrote a fictionalised biography of HG Wells that did not show Rebecca (or Cicily) in a good light … they never spoke again; and it was worse than that.
The Fountain Overflows can be understood from the Blake quote on the title page … "The cistern contains: the fountain overflows". Essentially and autobiographically inspired novel concerning the Aubrey family in the first decade of the 20th Century.
Later Rebecca west would write two further extensions … one published posthumously. She lived then in a large apartment overlooking Hyde Park. Unfortunately, next to the Iranian Embassy and had to be evacuated when it was under siege ... if you remember all that. I her final years she was friends with Frankie Hawerd so must have had some fun.
Rebecca West an extraordinary life and this novel encapsulates some of it.

Updating...