The Fortunes of Fifi – Molly Elliot Seawell – First Edition 1903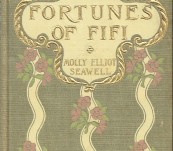 Short Description
A first edition published by Bobbs-Merrill, Indianapolis in 1903. Interestingly, carries the booksellers sticker of Dymock's Book Arcae, 428 George Street. Dymocks, Australia's favourite book store was started in 1879 but soon moved to the aforementioned address as the business took off.
Fifi is a young actress in fourth rate theatre in Paris. Napoleon is involved in a minor way. She has confidantes and admirers and much love and lost love ensues. She turns out to be related to a certain person in very high place … things get rich and in a tangle which really she is not that thrilled with – eventually, she ends up with the one she should. Complex and intriguing romance. The outline is easily told … it became an early silent movie circa WW! And was very successful.
Octavo, 239 pages, with decorative end papers that match the delightful pictorial covers. A very good copy.
Classic Romance based in Paris, became one of the very first movies.

Updating...