The Elements of Dowsing – Henry de France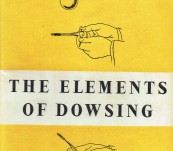 Short Description
Anyone interested in the extraordinary skill of dowsing, to discover water of valuable minerals, should read this efficient go to book by Le Vicomte Henry de France. This English edition translated by A.H. Bell and published by G Bell, London in 1967.
We learn that the author was a leading expert in the field who unfortunately packed his clogs before it was published.
Octavo, 84 pages with the occasional appropriate sketch or diagram. Ownership name marked out on free end paper ... otherwise a fine copy in a very good dust jacket.
Set out in nine chapters we start with the "History of the Art of Dowsing" and then the instruments – the Pendulum and the Rod. This leads to the Technique and Dowsing for Water and Minerals and Metals – enough to get any budding geologist interested. More advanced applications and an introduction to Radiesthesia … in cooking, medical applications and agriculture (some serious money saving ideas for the farmer with time to study and experiment).
Ever since we saw Jimmy on Opal Hunters get his dowsing rod out we have been hooked.
Understand and learn the science of dowsing – better than any University degree.

Updating...