The Comedians – Graham Greene – First Edition 1966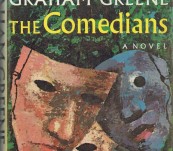 Short Description
First edition published by The Bodley Head, London in 1966. Octavo, 313 pages. Very good condition. First edition variant dust jacket designed by James and Ruth McCrea.
Described as a novel, not an entertainment, if you understand the Greene definition.
Classic Graham Greene novel based in Haiti at the time of dictator Doctor Duvalier "Papa Doc". Greene could not return to Haiti to finish his novel because of his description of the dictator in the English press. As usual alive with characters and suspense and sometimes comedy.
First edition Greene Classic

Updating...