The Chairman's Guide and Secretary's Companion – New edition Revised by Frank Shackleton.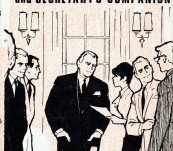 Short Description
Published by Ward, Lock & Co, London and Melbourne – a popular help book this edition 1957.
Octavo, 132 pages, a fine copy, unmarked except for a large tick on the page "Duties of the Chairman" obviously reflecting the agreement of some pinstriped owner.
Modern reporting, views and means of communication may make some of this obsolete you may think. NO SO. Such elements as tenure; impartiality; dilatory motions; defamatory statements; toasts; relationship with Press; status; disorderly conduct etc all seems, in Voyager's mind, stuff needing some consideration of late.
A final Chapter on "Typical Speeches" could improve things especially at a Social Dinner, A Bazaar or indeed a Popular Lecture.
Enlighten and educate your Boardly Friends – what better gift.

Updating...