The Canary Jacket – Ann Shead – First Edition 1968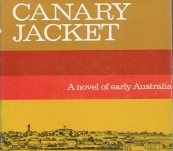 Short Description
First edition published by Collins, London and Sydney in 1968. A "novel of early Australia" by the distinguished author.
Octavo, 256 pages, a very good copy in a complete and clean dust jacket.
Australian author Ann Shead came from Cornish stock. This story start in Cornwall and smuggling which leads to transportation to New South Wales. The realities of life downunder for convicts bound out to serve a Master are to the fore of the narrative. Things do improve and the book ends pleasantly high and rewarding.
Convicts doing it tough but seeing it through in the end … the lucky ones in the Lucky Country.

Updating...