The Amazing Mr Doolittle [Biography of American Air Ace and Daredevil] – Quentin Reynolds – 1954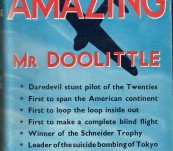 Short Description
A very good copy of the second impression of the first UK edition published in June 1954 one month after the first.
Published by Cassell, London. Octavo, 313 pages, frontispiece of our Hero.
Biography of the great American Air Ace. The front cover boldly list his achievements .. some would be less bold nowadays .. that's history.
His early flights is our bag though, and this ace started early in the 1920's .. winner of the Schneider Trophy and a true daredevil .. where are they now? He was the first to fly on instruments alone, cross America etc.
Doolittle, Not talking to the Animals, flying the Aeroplanes.

Updating...