Tall Ships and Sailormen – A Concise Survey of Victoria's early Maritime History – J. K. Loney.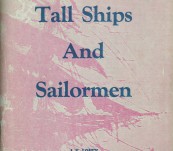 Short Description
Self published by the irreplaceable Jack Loney who knew everything maritime everything shipwreck there was to know.
Soft cover, 100 pages with an unusual unpaginated inset of 18 pages with images from photographs .. this may be an addition to the book … printed on smaller paper stock. Bar that, further illustrations, maps, charts etc.
The usual Loney comprehensive approach covering … Bully Forbes; Lure of Gold; Steamships; Tragic Loch Line; Mosquito Fleets; Hulks and Lighters. And, under "Making History" … Sealing and Whaling; Ghosts at the Rip; West Coast Mysteries; Smugglers; Shenandoah Incident etc etc.
Even to keep you going for a few wintery nights and at least one round of "Mastermind"
Loney summarising Victoria … and there is a lot of it!

Updating...