Shipwreck Archaeology in Australia – Michael Nash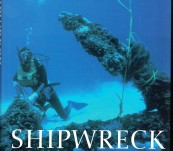 Short Description
A fine copy of Michael Nash's all embracing Australian shipwreck book.
Published by the University of Western Australia Press in 2007. Squarish large octavo, 244 pages, very nicely illustrated throughout, end paper illustration of the dreadful goings on at the Batavia camp.
Pulled together by Nash with contributions from a number of other experts in the field, or the water really.
The fifteen wrecks dealt with in detail are presented chronologically starting with the Batavia (1629) .. then a leap to Hunter's Sirius (1790) .. the Pandora (1791) all the way to the Tasman (1883). We say fifteen but the last is a place for wrecks Garden Island (1906-1945). Notes, glossary etc finish what is a really good reference or stand alone work.
The other dimension with this book is the back history of many of wrecks – First Fleet; Bounty Related; Slavers; Walers etc and for some another aspect such as Experimental Reconstruction (Zanoni 1867); Timber Shipbuilding techniques (Water Witch 1842).
Australian Wrecks – the way in to the subject – no better presentation.

Updating...