Riddle of the Titanic – Robon Gardiner & Dan Van der Vat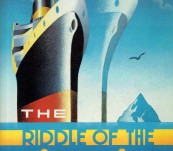 Short Description
Published by Weidenfield and Nicolson, London in 1995 a first edition soft cover. 312 pages, nicely illustrated. A very good copy.
Regarded as one of the more thorough Titanic books, with much about the before and aftermath. Written in the context of the finding of the wreck ..
Questions remain unanswered … Why was the man at the helm when she hit the iceberg packed off to South Africa? … Why did her reluctant Chief Officer still feel uneasy about a ship on which he had never sailed before … and, Why did one of her stewards "wish the bally ship at the bottom of the sea"?
Titanic well researched and written …

Updating...