Richard Siddins of Port Jackson [Australian Maritime History] – Lyndon Rose.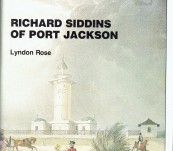 Short Description
Published by Roebuck in 1984 a nice production, larger format, 152 pages, Illustrated, end paper maps. A very good copy.
Richard Siddins was a merchant sea captain who sailed out of Port Jackson from 1804 to 1822. He operated sealing expeditions to the Antarctic Oceans; gathered sandalwood; carried cargo to India and China. Within all this he experienced more adventure seeking gold from a wrecked privateer; taking care at a cannibal feast; chased by Tongan war canoes; wrecked off Macquarie Island … it was all in a day's work for Captain Siddins.
Hinted above amongst all this was an important early voyage to the South Shetland Islands.
Early Australian Maritime History.

Updating...