Researches in The Phenomena of Spiritualism – William Crookes FRS. [Additions Sir Arthur Conan Doyle] – 1926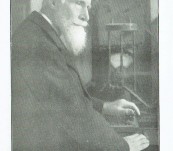 Short Description
Title continues – Together with a portion of his Presidential address given before the British Association, 1898; and An Appendix by Sir Arthur Conan Doyle.
Published both Manchester – the Two Worlds Publishing Co and London – The Psychic Bookshop, Victoria Street in 1926.
Octavo, 144 pages plus index and publishers catalogue. Frontispiece image of Crookes, numerous illustrations throughout explaining the scientific goings on. Some foxing [spongy paper] and age marks to plain covers – but a scarce extremely interesting work by one of the greatest scientific minds of all time.
Impossible to summarise Crookes' achievements as an experimental chemist and physicist. Pioneered modern spectroscopy through his invention of the Crookes tube, discovered the element Thallium, contributed to the filling out [reorganisation] of the Periodic Table re the inert gases. A wealthy man who had a great business brain and combined these talents to fund his own research. In later years a whole, very large, floor of his Kensington Residence was a series of private laboratories and scientific library. Received the Nobel Prize in 1907 and many others achieved theirs through his work.
So, Crookes was interested in forces and formed the concept of plasma being the fourth state of nature. His interest in spiritualism and spiritual forces was a serious matter – he was President of the relevant Society at one time. This book summarises earlier publications of his views and experiments – and includes a chapter from his friend and fellow spiritualist Sir Arthur Conan Doyle on an "Independent Testimony as to the mediumship of Florence Cook".
Crookes' chapter headings are a useful guide … Spiritualism Viewed by the Light of Modern Science; Experimental Investigation of a New Force; Some Further Experiments on Psychic Force; Miss Florence Cooks Mediumship; Spirit-Forms; the Last of Katie King etc.
Sir William Crookes one of the worlds great experimental scientists and the Spirit Forces.

Updating...