Radio-Activity. An Elementary Treatise, from the Standpoint of the Disintegration Theory – Frederick Soddy M.A. – First Edition 1904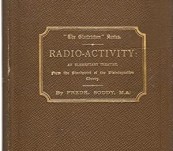 Short Description
An important work in the history of science. Explaining all of the then known facts by the theory of radio-activity and the explosive disintegration of elementary atoms.
Voyager scientific hero Frederick Soddy (1877-1956) was to win the Nobel Prize in 1921… "for his contributions to our knowledge of the chemistry of radioactive substances, and his investigations into the origin and nature of isotopes".
Published by "the Electrician" Printing and Publishing Co, London in 1904.
Octavo, brown cloth covered boards with gilt lettering on front and spine. Xi, 214 pages; 40 illustrations, diagrams and charts; publishers catalogue. Some age but a worthy copy of an important and scarce work.
Soddy in conjunction with Rutherford developed the disintegration theory of radioactivity from experiments conducted between 1901-1903.
Following this work Soddy lectured in physical chemistry and radioactivity at Glasgow University. By 1913 his theory of disintegration had been further developed and the concept of isotopes developed … i.e. that certain elements exist in two forms which have different atomic weights. He became Professor of Chemistry at Aberdeen in 1914 and after WWI went to Oxford where he stayed until retirement in 1937.
Important work Soddy on Radio-Activity – early days.

Updating...