Precognition and Human Survival – Drayton Thomas.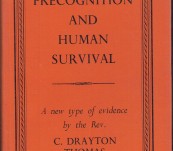 Short Description
Published by the Psychic Press, High Holborn London. No date but we suspect late 1940's.
We cannot find any earlier versions of this work by the late 19thC Reverend Drayton Thomas who penned a number of intriguing books through Fowler and Wells such as Human Magnetism and the simply put Brain and Mind.
Octavo, 115 pages, super deep red dust jacket over lime green cloth covered boards, titling on jacket repeated on boards. A very good if not better copy.
"If a man should die shall he live again". We are told that the book is the outcome of thirty years extensive research into the study of trance mediumship with the gifted sensitive Mrs Osborne Leonard. No effort is spared to provide satisfactory evidence … of many kinds. A stenographer was employed … well the expense spared.
Drayton Thomas – Precognition Proven.

Updating...