Period of Adjustment – Tennessee Williams – First UK Edition 1960.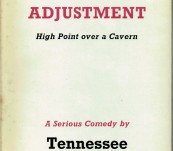 Short Description
A first UK edition published by Secker and Warburg, London in 1960.
Subtitled … High Point over a Cavern. Described as a "Serious Comedy" … and it is … there is a strong message and quite a few laughs.
Octavo, 95 pages all in super condition.
Set on Christmas Eve it's a tale about two couples who have been married a few years and are facing the tensions that can arise …
Made into a Hollywood Movie in 1962 for which star Jane Fonda was nominated for a Golden Globe.
A good Christmas Eve read … it will not be on the telly … it's not reality

Updating...