Original Watercolour – Lt Janvarin Grassie R.N. – New South Wales – 1876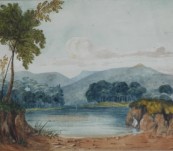 Short Description
A delightful Australian School watercolour … a Woman Bathing by a Lake 32cm by 21cm. External frame dimensions. 50cm by 39cm. Lovely palette and a charming naivety.
Matted and framed by upmarket London Picture Framers, Restorers and Guilder with their label on the back. Slight hints of age but still in very good condition.
The artist date and location nicely noted lower left and right on the mat. Decorative lines drawn to mat with lovely choice of fill colouring.
After reasonable research we have not come up with anything on the artist nor any obvious record in the Royal Navy.
Nice Australian watercolour from the 1870's – Artist named but little known about him.

Updating...