Original Joseph Lycett – Mount Wellington – near Hobart Town – Van Diemens Land -1826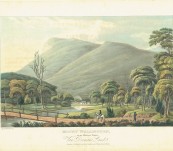 Short Description
An original hand coloured aquatint from the scarce "Views in Australia, or New South Wales and Van Diemen's Land"
By Joseph Lycett published in London in 1826 by J Souter of 73 St Pauls Church Yard.
Lycett was a convict artist of great distinction – he had been sent out for forgery. He was pardoned and later returned to England where he again went about his forger's ways – he took his own life in prison. His artistry is unique and charming and he produced 50 images of New South Wales mainly in and around Sydney and a number of beautiful views in Tasmania.
A strong colourful Lycett - most sought after view
Price $690.00 unframed - rare and very collectable

Updating...