Ocean Passages For The World – 1973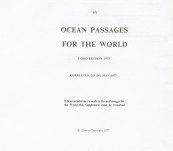 Short Description
A fine copy of the third edition prepared by Commander H.L. Jenkins of the Royal Navy and published by The Hydrographic Department, Taunton, England. A Preface by Rear Admiral Hall.
This essential reference was first published in 1895, then 1923, 1950 and then this edition 1973. Revised and modernised each time.
Slipcase with folio volume plus wallet containing the numerous large folding charts. Folio volume bound in blue cloth covered boards, gilt titles 258 pages with 25 charts and diagrams some coloured and folding. The work is divided into two principal sections … Part I – Power Vessel Routes; Part II – Sailing Vessel Routes. Also, the 1977 Supplement of 11 pages, with additions, corrections and other changes. Very good if not fine condition.
The wallet contains seven large (a metre or so wide) charts and a viz .. World Climatic Charts (January and July); World Main Ocean Routes for Power Vessels; World Sailing Ships Routes; Tracks Followed by Sailing and Auxiliary Powered Vessels and World Surface Currents .. and D6083 Loan Line Rules etc. Also a ready reckoner … Logarithmic speed, time and distance scale.

Updating...