Mr Tambourine Man (EP 1965) Spanish Pressing with Special Cover – Les Byrds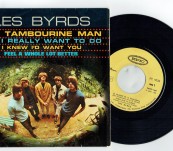 Short Description
Or "El Hombre de la Pandereta" … first Spanish pressing of the Byrds no 1 hit interpretation of Bob Dylan's classic song … same year as his 1965. Les Byrds first all up.
45 rpm EP, including All I Really Want to Do. I Knew I'd Want You and Feel a Whole Lot Better. Very good condition.
Bob Dylan gave his blessing to the recoding before it was released. Dylan's version ran for over 5 minutes, but the Byrds decided on a version half that length for air play. It was effectively the first "Folk Rock" hit and in a sense created the genre. Using only the second verse and the chorus twice and an additional construction, starting off with a Bach inspired intro the twelve sting guitar effect is a winner. "You can dance to that" … quote Bob Dylan. The Byrds got Hall of Fame recognition … unusual for a cover … but a special one.
Get out La Panderata tonight …

Updating...