Mare Rubrum (The Red Sea) – Petrus Bertius -1602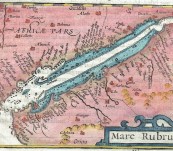 Short Description
An original copper engraved miniature map of the Red Sea region, one of the earliest to focus on this region. With north orientated to the right showing Yemen and the east coast of the Arabian Peninsula and Egypt with place names and rivers in some detail, mountain regions illustrated, shallow marshy areas highlighted. Later colouring as always. 12.5cm by 8.5cm.
Engraved by Petrus Kaerius for the great geographer Petrus Bertius and published by Cornelis Claesz in Amsterdam in 1602 for the "Tabularum Geographicarum Contractarum Libri". Refer expert Geffrey King's authoritative work on miniature maps.
Price $120.00 unframed
Red sea region over 400 year old.

Updating...