Linus Pauling [Two Times Nobel Prize Winner] – Biography – A Man and His Science – Anthony Serafini (Introduction Isaac Asimov)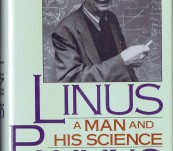 Short Description
A first edition published by Simon and Schuster in 1989.
Large octavo, 310 pages with illustrations from period photographs. Very good condition.
A super biography by the thorough and readable Professor Serafini. With and introduction from Isaac Asimov which also beats his own drum.
A monumental scientist of the 20th Century … the only person to single handed won the Nobel Prize twice … Chemistry and Peace. His application of quantum mechanics to molecular orbital theory and the lead into the helix and, for others, consequently DNA was way ahead. His competition with William Bragg and the Oppenheimer conflict (not the least that he made a pass at Pauling's wife) add some intrigue. Ban the Bomb and Vitamin C the elixir came later …
Pauling's Life will prove an inspiration for any budding scientist.

Updating...