Jamaica Inn – Daphne Du Maurier – 1951 Edition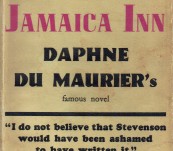 Short Description
Daphne du Maurier's Jamaica Inn vies with Rebecca as her best work… this "Cheap Edition" has become iconic.
Jamaica Inn was first published in 1936 … this is effectively the 21st impression, of 1951, with many more to come
Octavo, 208 pages, with the publisher Gollancz's iconic yellow jacket. This is the cleanest and best early copy we have come across.
If you are in that beautiful part of England make sure you visit Jamaica Inn and read the book. Daphne gives us a useful introductory note … "Jamaica Inn stands to-day, hospitable and kindly, a temperance house on the twenty-mile road between Bodmin and Launceston" … you can get a nice drop there now and a heavy lunch!
"It was a cold grey day in November …"

Updating...