Jack Thwaites – Pioneer Tasmanian Bushwalker and Conservationist – Simon Kleinig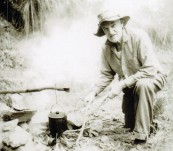 Short Description
Published by Forty Degrees South, Hobart in 2008. A very good copy of a hard to come by book.
Soft cover, perfect bound, 261 pages, illustrated throughout including images from hand drawn maps.
This is a different sort of biography. We have the background of Jack Thwaites born in 1902 at Kendall in the Lake District, England. Arrived in Tasmania with his family at the age of ten. Around 1928 Jack began his ambitious walking trips. He was three years ahead of Bert Nicholls who is famed for cutting the Overland Track between Cradle Mountain and Lake St Clair .. the first genuinely up Frenchman's Cap and likewise to the mountains in the South West.
This book is partly written around the diaries he kept during these long hikes, often written in pencil at the evening camp fire. Many diaries are missing … such a pity.
Simon Kleinig called on the help of many to produce this intimate and rewarding book not the least Jack's grand children Anne and Bill Thwaites who also manged to find some memorable images of this pioneering walker.
Jack Thwaites – The First Real Tasmanian Bush Walker.

Updating...