Ice in the Bedroom – P.G. Wodehouse – First Edition 1961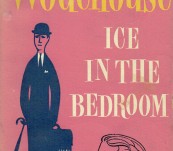 Short Description
Wodehouse First UK Edition 1961. Octavo, 223 pages, red cloth covered boards with silver titling to spine and front. Dust jacket near complete, a little aged, sunned on spine. A trifle spotted on page edges, clean inside. A pretty good copy.
Freddie Widgeon has slaved a a solicitors clerk. His meagre days seem over as his holding in Silver River Oil Stock has ramped up following the recommendation of American Thomas G. Molloy. Where will it all end and with what hilarity an what is this Ice in the Bedroom.
Wodehouse Financial Humour – First UK Edition

Updating...