Easter Island Monuments – Cook's Second Voyage – Benard Paris 1785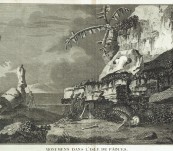 Short Description
An original copper engraving from 1785 of the monuments at Easter Island. Engraved by Benard and published in Paris as part of the French version of Cook's Second Voyage.
"Moumens dans l'isle de Paques" a deep and dramatic depiction. Classical overtones and yet in a modern sense even "Daliesque" ... we really admire the structure.
Printed area 36cm by 21cm with near invisible central fold as issued. Strong thick paper and a strong dark ink image.
Would frame nicely in Voyager uncoloured map style in cream mat with black core and charcoal frame. Here priced unframed at $190.00. Just enquire if you wish the framing option.
Striking Image for the Easter island Curios

Updating...