Early Thematic Mapping in the History of Cartography – Robinson (Perry's Copy)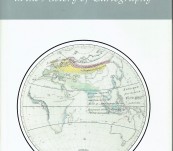 Short Description
A first edition published by the University of Chicago Press in 1982.
Small quarto, 266 pages nicely illustrated as you would expect with the subject. Very good if not fine condition.
Published map expert Perry's copy with his name neatly written on the end papers.
The author Arthur H Robinson was the Professor of cartography at the University of Wisconsin- Madison. He published several works on the broader subject.
Following a good "Guide to Notes, references and Illustrations" we have chapters on the Appearance of the First Thematic Maps; the New world and a New outlook; Single Maps and Thematic atlases; the Physical World; Maps of people and Their activities; the Social environment etc.
What makes this book special is the understanding of the development and scope of thematic cartography before the digital age … maybe we have lost something despite the obvious ease ..
Thematic maps … they inform and make you think

Updating...