Early Maps – Tony Campbell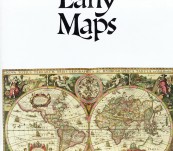 Short Description
Another beautiful book on early cartography. Published in 1980 by Abbeville Press, New York.
Folio, of near square format, 147 pages heavily illustrated in colour with a number of fold-out reproductions. A fine copy of a book of high standard. A heavy book that might require some further postage assistance.
Tony Campbell was a Director of distinguished London map dealer Douwma. He was a regular contributor to Map Collector's Circle, The Map Collector and Imago Mundi.
Set out geographically … The World; The Americas; Europe and the Mediterranean; Africa; Asia; Australia and the South Pacific …. very good narrative and glossary for further reference.
Early maps in all their beauty well explained and beautifully displayed.

Updating...