Dodsworth – Sinclair Lewis (First American Nobel Laureate for Literature)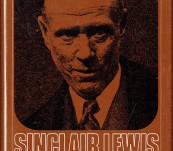 Short Description
First published in 1929 this is the 1947 Modern Library edition with a special foreword by Clifton Fadiman.
Octavo, 377 pages all in very good condition.
The author Harry Sinclair Lewis (1885-1951) was the first American to win the Nobel Prize for Literature in 1930.
Sam Dodsworth makes a fortune selling his automotive business and with his younger glamorous wife, Fran, heads for a summer in Europe. Soon they find that their different interests drive them apart … Fran enjoying the high party life whilst Sam's interests lie in history and culture. Fran falls for an admirer and that's the end of the relationship. Sam has a more enduring meeting ..
Dodsworth a special story - readable and with meaning.

Updating...