Decorative Maps – Robert Bacon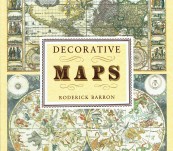 Short Description
A visual delight Robert Bacon's book on some of the rarest and most beautiful maps ever created, starting with the Hereford Mappa Mundi.
Folio size, softcover, perfect bound, published by Bracken Books, London in 1989. Jonathan Potter had a hand in it … well he would.
Forty alternating plates and page narrative after a fine introduction by the compiler.
Including the aforesaid map … Ptolemy Map of the World; Rotz – the Portlan Chart of South-East Asia; Saxton – Dorecestriae; Ortleious – the beautiful Pacific Map; Boazio – Isle of Wight … and the rest ... they are all really super.
Great selection very good images…

Updating...