Cruising the Coral Sea – Alan Lucas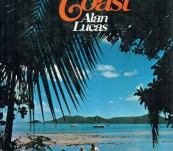 Short Description
This is the third edition nicely updated with aerial images and some extra anchorages. A really super book about the tropical coast of Queensland and the Ocean and Islands. The kind of book that is probably difficult to continue to produce spoilt by the accessibility of the internet. But nowhere is so much useful and interesting information presented in an orderly and balanced fashion.
Published by Horwitz in 1976, large octavo, 336 pages with a multitude of maps, sketches, the aforesaid photographic images etc.
After a useful introduction we have a description of the reefs , the islands past present and notes on conservation. Then a handy chapter on catching and cooking your own food .. and the number of poisonous creatures encountered. Safety in the waster … not just sharks but the stingers even the small ones that can kill. Then into the detail of the approaches and anchorages and what a good anchorage looks like …
A special book on Queensland and only dated where it is interesting …

Updating...