Captain James Kelly of Hobart Town – K.M. Bowden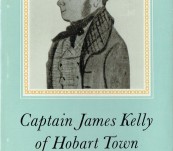 Short Description
Published by the Melbourne University Press in 1964, a first edition in very good if not fine condition condition.
Octavo, 126 pages, nicely illustrated, perfect dust jacket.
James Kelly was born in Parramatta in 1791 the son of a convict Irishwoman. He took to the seas as soon as able – was the first man to sail round Van Diemen's Land in a small boat, survived shipwreck at Macquarie Island and had battles with the natives in New Zealand and back in Tasmania.
Kelly rose to be Master of a successful whaling and sealing fleet … and then to legend.
James Kelly was Hobart

Updating...