Bronze Plaque Swedish Polar Explorer Otto Nordenskiöld by Austrian Artist Hugo Taglang – 1905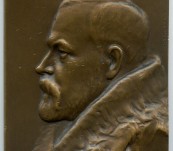 Short Description
Produced to commemorate the Antarctic achievements of Swedish explorer Otto Nordenskiöld (1869-1928) who led a Heroic Era expedition to the Antarctic in 1901-1904. A fine image of the man decked out in heavy polar furs.
Nordenskiold arrived in the Antarctic in 1901 and wintered on Snow Hill Island. Unfortunately, their ship the 'Antarctica" got trapped in ice and sank in 1903. His back up Larsen eventually met up with the stranded team but was unable to get them away. They were eventually rescued by the Uruguayan Navy. Despite all this their visit was hailed a scientific success as they explored and researched much of Graham Land.
Nordenskiöld was made Professor of Geography at Gothenburg University in 1905 the same year this commemorative was struck. He later went on to explore northern Greenland and in the 1920's certain parts of South America. He was killed by a bus in Gothenburg crossing the road.
80mm by 57mm weighing 170gm. The artist medallist Hugo Taglang (1874-1944) was born in Vienna. An example of this item is shown in the National Maritime Museum Collection, London ID MEC 2149.
Otto Nordenskiöld an unusual Antarctic commemorative
.

Updating...