Woodcut Bookplate of Sir Samuel James Way Bart – Chief Justice c1910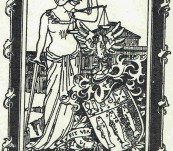 Short Description
A striking woodcut bookplate, over 100 years old, of Sir Samuel James way (1836-1916). 13cm by 9.5cm in very good condition. This was the third bookplate commissioned by Way .. it bears his coat of arms which features three salmon working their way upstream against the current .. a metaphor … struggling against all obstacles towards success. His motto "Fit Via ci" loosely translating as "Where there's a will there's a Way" … so a hint of humour.
Sir Samuel was Chief Justice of South Australia and Lieutenant Governor. He was invited to the Privy Council but had to give it up partly due to confusion as to who was to pay him. He was knighted in 1899. He was a avid collector of art, objects and book. His private library was one of the greatest ever amassed in Australia … a large part of it on his death went to the Adelaide University Library where it increased the collection by 60%.
Sir Samuel James Way – Leading South Australian

Updating...