Banded Hare-wallaby or Munning – Lesson – c1830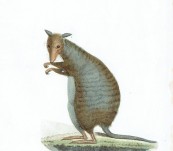 Short Description
Le Kangourou elegant (Halmaturus elegans) or .... Banded Hare-wallaby or Munning
Original hand coloured engraving originally drawn by Charles Alexander Lesueur (1778-1846) . Good strong clean example. Produced for Rene Primevere Lesson (1794-1849) for his extension of the great natural history work originally produced by Count Buffon. They were published in Paris in c1830.
The Banded Hare-wallaby is considered vulnerable and is found on Bernier Island and Dorre Island off Western Australia
Lesueur participated in the Baudin Expedition, Geographie and Naturaliste, originally taken on as a gunner. Baudin discovered his talent for art and appointed him to illustrate his private journal. Lesson participated as doctor and naturalist in the Duperry voyage round the world on board La Coquille (1822-1825).
Price $120.00 unframed ... enquire if you wish framing options.
The rare Australian Banded Hare-wallaby … look after him!

Updating...