Australian Shipwrecks Update 1622-1990 (Volume 5 and last) – Jack Loney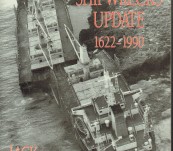 Short Description
Published in 1991 a soft cover copy of Jack Loney's final book on Australian shipwrecks … filling in many gaps and providing new information nor previously published. So completing what remains as the great reference guide to shipwrecks and we have some!
Perfect bound, 169 pages, self published. Illustrated cover and numerous illustrations mainly from period photographs in the text. Because the subject matter is spread over the whole period of the broader "Shipwrecks" works this edition has a slightly different approach with chapters such as … The Long Lost wrecks; then the updated list; then extension appendices on … threatened losses; scuttled vessels; the Riddle of the Submarine etc.
If its shipwrecks its Loney

Updating...