Australian Eastern Shovelnose Ray – by Shaw & Nodder – 1791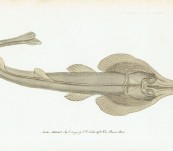 Short Description
Very early copper engraved hand coloured engraving of the Australian Eastern Shovelnose Ray (Aptychoterma Rostrata) which you can find along the coast from Newcastle in NSW to the Far North in Queensland, more prevalent around the Barrier Reef. Very good condition original 18thC colouring.
A medium sized ray with a long flattened triangular snout, wedge shaped disk and shark like tail. Sexually dimorphic dentition – the males have elongated carps on their anterior teeth that allow them to grip the female during mating … ouch.
George Shaw oversaw the Natural History Department at the British Museum. Nodder was a natural history artist and worked for Banks on his Florilegium.
Price unframed $90.00 or $190.00 framed in Voyager Natural History style.
Very early Australian Fish Engraving

Updating...